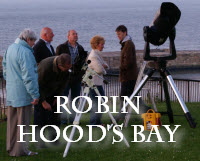 Certainly one of the observing highlights on the WDAS calendar.  This year's event is on 3rd September (or 10th September if clouded-out on 3rd).
Hook's House is an excellent dark site location situated on the B1447 overlooking Robin Hood's Bay. If the weather is fine the campsite should be full and as long as skies are clear, or clear enough, we should have a cracking evening, very likely with an in-boot-barbie happening as well.
The campsite should still be busy, so we plan to get set up for 20:00h.  Members bringing scopes please be on site for 19:45pm if possible.
Date:
10 September, 2016 - 20:00
Location:
Hooks House Farm
YO22 4PE
Robin Hood's Bay
United Kingdom
54° 25' 51.3552" N, 0° 34' 36.3576" W
GB