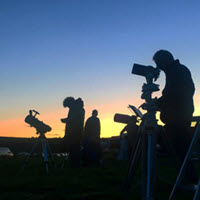 Decisions, decisions, so, do we host a few star parties this coming month.
There are no major events in the town, Regatta and Folk Week have all been cancelled, but i think with suitable care and distancing measures taken, we (that is Mark with anyone one who would like to assist) could manage some events.
Provisionally, on Aug 15th from 21:00h, from the Archery Green area, not from the Cpt Cook statue area.  A sort of dry run.
Location:
Behind Archery Green (near to Skate Park)
near YO21 3HT
Whitby
United Kingdom
54° 29' 23.0748" N, 0° 37' 22.6812" W
GB