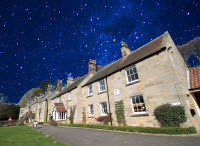 On Saturday 2nd, we shall, weather permitting, be called in to action again at the Danby Moors Centre, for their Dark Skies Week event, coinciding with the schools half term.  This is their 'flagship event' and if skies are clear we shall need assistance from members regarding scopes/transport, similar to the event held last October.
Hopefully skies will be clear this time round, if so we shall be observing some of the jewels of the winter sky.  The event runs from 19:00-21:00h, so we shall be setting off around 18:10h to allow time to set up equipment.  These National Park events for the North Yorkshire area have been highlighted in the Astronomy Now Magazine, and we expect it to be sold out (If previous star party nights are anything to go by) so 60-80 people will be braving the winter air.
Astronomically speaking March 2nd is still winter, and the weather may dictate what is possible on the night, (even getting there) Suffice to say if conditions are hazardous it will be called off, but if cloud is our only problem, plan B will be used to good effect (ie. an indoor presentation).  More details will be given at the February meeting.