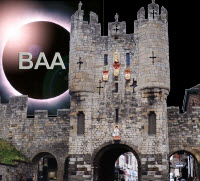 WDAS has been sent details about the British Astronomical Association Summer Meeting, which is being hosted by the York Astronomical Society.  Please let Mark know if you'd like to attend, so we can arrange shared transport. 
The ticket cost, for WDAS Members, is a miniscule £5.00, for which you get to see five talks on Cosmology, on a theme "Probing the Dark Side of the Universe".
Weighing Galaxies and Clusters 'using gravitational lensing'
Dr Simon Dye, Nottingham University
'Deep Underground Science at Boulby Mine: The Search for Dark Matter & Beyond… '
Prof. Sean Paling, Sheffield University
'Mapping the Universe: from bright stars to dark energy'
Dr Rita Tojeiro, St Andrews University
'Advanced LIGO & Gravitational Wave Astronomy Mr Harley Katz, Cambridge: Galaxy Formation and Evolution: Theory vs. Observation'
Dr Giles Hammond, Glasgow University
Click here to download the BAA information sheet.
Location:
Priory Street Centre
YO1 6ET
York
United Kingdom
53° 57' 21.4092" N, 1° 5' 18.8484" W
GB