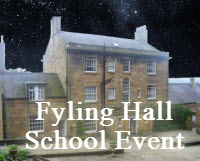 A week later on the 28th February 2020, we'll be back down at Fylinghall School who have invited us to host their Stargazing Party.  Again, last year's event, although successful was clouded out, so the 'stack yard' served as the 'solar system' for the scaled planetary demo, which went down very well indeed.  Then the Barn theatre acted as the venue for the indoor presentation.  I suspect if conditions are clear we shall be setting up on the front lawn in front of the main building.
Further details can be found by contacting Angelique on marketing

fylinghall.org .
Who knows what the conditions will be like, no me neither, so Plan B and C will be lurking in the background.  It's going to be a busy week – one way or another.