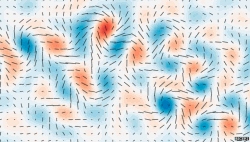 We live in exciting times in our understanding of the Universe.  But if this discovery is confirmed, it will certainly be the biggest story in Cosmology this year!
A team from the Harvard-Smithsonian Institute say they have discovered the smoking gun of gravitational waves in the Cosmic microwave Background: proof that the universe expanded to trillions of times its own size in the tinyist fraction of a second after it was created.
The work, if it stands up, could be in line for a Nobel prize.
Here are two video reports: the first from YouTube Channel "VideoFromSpace":
And this from YouTube Channel "This is Genius":

___
Image Credit: BICEP2 Project