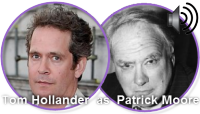 For all Patrick Moore fans, a new Drama based on his long broadcasting career, is now available on BBC iPlayer.
It's 1957 and the little known Patrick Moore is living with his mother in East Grinstead, from where he studies the heavens and writes popular factual works on astronomy, as well as science fiction under a pseudonym.
When Moore's latest book 'Suns, Myths and Men' gets a terrible review from the stuffy academic Dr Henry King, Patrick is in despair and, when the phone rings, he braces himself for more bad news.
Sean Grundy's drama is both a moving and at times laugh out loud funny telling of a key moment in the life of Patrick Moore.
This is the story of how the self taught astronomer, whose Moon maps were later used by the Apollo missions, became the presenter of The Sky At Night. But it's also the story of a mysterious love affair, and a window into the mind of one of the nation's favourite broadcasters.