In this month's Sky Notes:
Planetary Skylights
Aahh, September, possibly my favourite month, nights are dark quite early and hopefully not too cold, the Milky Way is at its best from the UK and there's plenty on offer to tempt the observer, particularly after midmonth when the moon is waning and we have dark skies. September's Full Moon is actually another 'mega moon' event, August's mega moon (the biggest of the year) having been clouded out on that awful Regatta Sunday 10th. So, depending on the weather have camera's at the ready for a great photo opportunity on Sept 9th (moonrise is around 7:45pm).
September is also the month of the autumnal equinox; equal hours of light and dark again, after which there is more dark in the equation as days grow shorter and the northern hemisphere tilts away from our nearest star. The actual date of the equinox is a little later this year, Sept 23rd - at 3:30am in the morning.


Planetary wise, Mars and Saturn remain on view, low in the WSW evening twilight sky, but will become increasingly difficult to observe as the month progresses. Mars is trying to keep ahead of the Sun and lies well to the right of Saturn now. The red planet is in conjunction with Antares - chief star in Scorpius on the 29th when the moon is also nearby.


Jupiter and Venus both lie in the dawn sky. Jupiter is quite high up in the east an hour before sunrise and should be easily recognisable, whereas brilliant Venus lies deep in dawn twilight very low to ENE horizon. The moon lies near Jupiter on the 20th.
Finally Comet C/2012K1 PANSTARRS may become a good binocular object low in the dawn sky at the start of September. Look for it around 5am on September 3rd across in the east just below/left of zeta Hydra near the head of Hydra.
Jupiter will reside upper left of the area. Use binoculars to see if you can spot a slightly elongated fuzzy blob. Good hunting!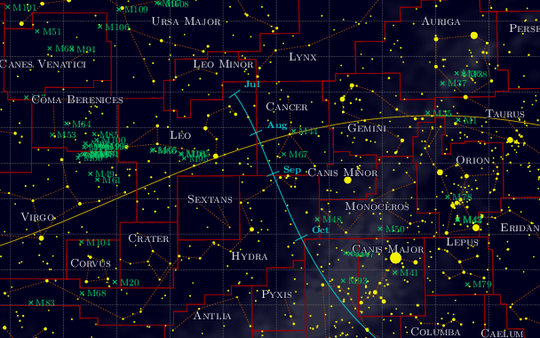 Passage of Comet 2012 K1 Panstarrs though the Sky.
Click image for full-size chart
Meteor Activity

There are no major noteworthy meteor showers in September, however you may spot a few Piscids which have two peaks: the 8th and the 21st. Rates are low, only 5-10 per hour at best. As with all meteor showers early morning viewing will be best. With Full moon on the 9th best chance of spotting some will be the 21st.  
September 2014 Sky Charts
Click each image to see a full-size Sky Chart:
Looking South
Mid September-21:30h

Looking North
Mid September-21:30h

Looking East
Mid September -21:30h
Looking West
Mid September-21:30h
Image Credits:
Planets: NASA
Comet 2012 k1 Panstarrs: in-the-sky.org
Sky Charts: Stellarium Software