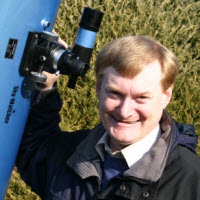 No snow to accompany Paul this year, although the rain and fog/mist did try to make up for this! Still, Paul made it safe and sound for his 16th visit to deliver the WDAS 'inspire' lecture. A last minute problem with the room projector (indeed an ongoing problem not made aware to us until Paul was in the room) almost caused a halt to proceedings before we had even started. Mark was on the verge of fetching the society projector, luckily Paul had brought his - just in case and so we started just about on time.
Paul was on fine form and 'Images of the Universe 5' was certainly every bit as inspirational, entertaining and fun as his previous 15, certainly the 30 people who came along thought so. The 10 images ranged from the decidedly 'spooky' looking, contrails left behind by rocket/missile tests to raging storms on planets, from the moons of Mars to the merging of galaxies.   'Nibbles' were as delicious as always - hardly a scrap left! All in all then, a most enjoyable evening which seemed to fly by; always a good sign.
 Many thanks to Rosemary for arranging matters at the Museum end and Sue for helping out in the Kitchen - most appreciated. Thanks also to WDAS members who came along, though it would be nice to see a good few more. Next year's presentation may also appeal to artists as well as astronomers; Paul reckons this new presentation is visually stunning. Can't wait!