A long time ago (about a year actually) in a galaxy far, far away, (truth be told it was really quite close, like this one) a party of intrepid rebels ventured forth to eat and be merry.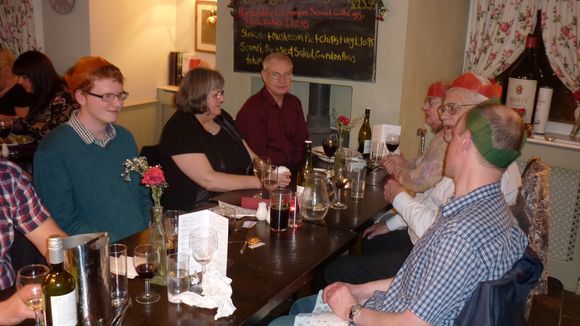 Such a good time was had by all; they swore (language Timothy!) to return when the time was ripe.  That day dawned, oops!  And dawned again the following day, when once again society clans came together to feast and draw up plans for the adventures ahead.  The rendez-vous place was the extremely wind-swept hamlet of Hawsker in the local watering hole known as the Hare & Hounds.  The shuttle missions bringing various parties to the location successfully avoided any imperial fighters and storm troopers, but not the storm – did I mention the wind.  Once inside however, all was cosy and welcoming, the venue droids being most attentive.  The festive food was excellent, washed down with a few bottles of the local moonshine, much to the liking of our rebel party.
However all this was just a cover for the real intention of the meeting; to formulate a plan to bring down the empire.  For this purpose secret devices had been cunningly concealed within the party crackers, undetected by the dark side.  Once pulled (crack) these devices, resembling trinkets and toys, were used to demonstrate how the precessing spin of our secret weapon, (identified by a spinning top) coupled with the laws of the conservation of angular momentum, could be used to jettison the Deathstar (a marble) away from neighbourhood of any planet.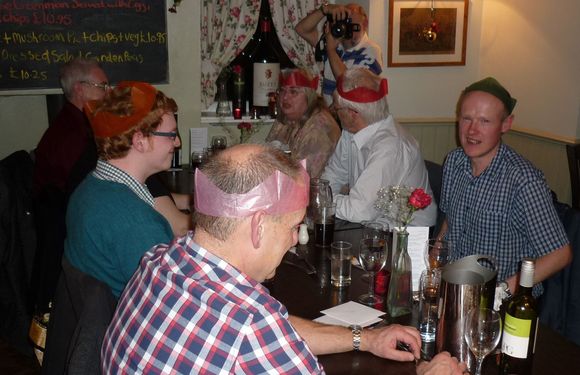 The plan was greeted with universal approval by all factions and will be implemented as soon as we have enough 'small teddy bears' to help distract the forces of the empire.
All too soon it was time to seek out our own lands, and after handing over the correct bounty (for once) we slipped away undetected (these are not the droids we are looking for).
Time will tell if the plans drawn up worked – we shall come together in another 366 revolutions.  Until then thanks to all those rebel parties attending; live long and prosper.  Yes I know that's from a different franchise.