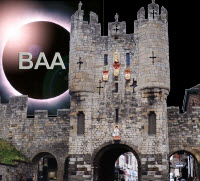 Four WDAS Members have already booked or the British Astronomical Association Summer Meeting in York on July 2nd.  If you'd like to go too, please contact andi

whitby-astronomers.com and we'll see if we can arrange for another car.
The ticket cost, for WDAS Members, is a miniscule £5.00, for which you get to see five talks on Cosmology, on a theme "Probing the Dark Side of the Universe".
See more details of talks and speeakers in the Events section.