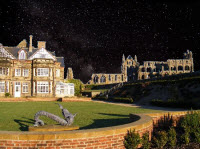 This was a last minute event – organised by the youth hostel.  Conditions on the evening were actually very good with clear skies and little wind.  Initially we thought hardly anyone was going to turn up, but by 18:30h a sizeable gathering had mustered on the front quadrangle in front of the Abbey Visitor centre. 
Mark performed the scale solar system, before observations were carried out, together with a laser tour of the sky.  Thanks to Keith for his assistance on the night.
The second event the following evening down at Boggle Hole was cancelled due to the weather.