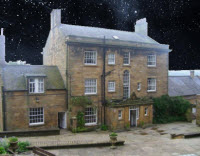 Keith and Mark hosted a star party for pupils and staff at Fylinghall School on Oct 2nd.
Once again the weather played ball and although some wispy cloud developed, it soon dispersed allowing fine views of various objects through the LX 200 and Keith's reflector.  Intended to last a couple of hours, the event went on until after 10pm, with a host of questions to answer. 
The pupils certainly enjoyed the evening and from the reaction of the staff, more astro-related material may in future pop up in science lessons!