Folk Week proved to be a mixed bag, with the event on Saturday 18th falling foul of cloud; indeed conditions were very similar to the previous week at Regatta.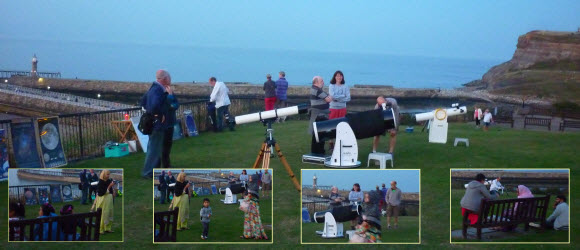 Tuesday evening turned out unexpectedly clear, and being mild an unscheduled star party proved rather successful, with the Moon, Mars and Saturn the mainstays of the evening.  The images were surprisingly steady, and much appreciated by all. 
The event on Friday evening was disappointing in terms of public attendance – hardly any, probably due to the fact the temperature was a good 12 degrees centigrade cooler than on Tuesday, and the chill breeze didn't help either. 
Keith, Lee and John braved the elements; Mark was late coming back from Malton, but eventually did make it.  Elaine also made it down having been chilled to the bone on the moors.  
Although lasting little over an hour, our doggedness was rewarded with a shooting star (periodic) and some interesting moonlit heavy shower cloud formations passing down the North Sea, far out.  An occasional lightning flash added to the scene.  It was definitely a hot chocolate 'bedtime drink' once back home.  Brrrr.