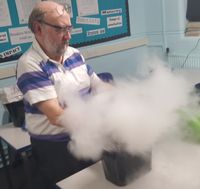 No, not from the society, but from work (lucky so-and-so) Keith has worked for the last 41 years as a science technician at what was Whitby School, then Whitby College and finally Caedmon College.  Most of us still refer to it as the former. 
You can almost say Keith has worked there 'man and boy'.  Starting in 1978 he has witnessed many changes not only in technology, but also teachers. Mark remembers Keith back in 1979-81, when he would be bustling in and out of science labs, tinkering and coaxing many an item of equipment back into action, extending even to the School computer (remember those days when IT consisted of just that –one computer) I'm sure one or two more society members will also remember Keith from back whenever they were there.
After 41 years or servitude, we all wish Keith a long and happy retirement, pursuing his hobbies and interests, which of course include his involvement with the society.  See you soon Keith - weather permitting!