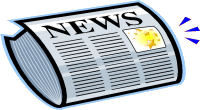 W.D.A.S. Members have long enjoyed our monthly newsletter with Sky Notes, Society News, Event Write-ups and Forthcoming Events.  For the longest time Mark laboured long each month on the newsletter and then pedalled, drove and (in extreme weathers) swam far abroad making deliveries.
Since last year, we have been gradually increasing the newsletter content on the website.  And since the beginning of this year newsletter deliveries switched to e-mail.  Now we have the technology to bring website and newsletter together!
From next month, the website itself will publish and distribute the newsletters, giving lots of benefits.  You'll get:
The Sky Notes, Society News and Events still delivered directly to your inbox, but with more graphics and slicker presentation
A trailer of all the other changes on the website in the past month, with links directly to the full article, often with related video content, where you add comments to articles, ask questions and take part in the discussion.
So here's what to expect:
Some time in the coming month Members will get an e-mail from the website with pre-prepared account details (except for the Members who already have an account).  Just click the link to visit and log-in to the website with a one-time password.  You'll be asked to choose a new password, and then you're done!
Of course, we hope you'll be a regular visitor to the website; and if you would like to join the editorial team and contribute content, please get in touch!  Also if you find any problems with the newsletter please let us what's wrong (as well as the e-mail program/web browser you're using).  And if you have any suggestions, please give us your feedback!