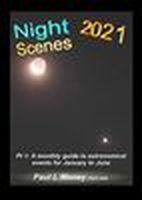 Paul Money's yearly sky almanac; Night Scenes, is now available online as a PDF download or on Kindle e book format. There will be no printed version of Nsc 2021 due to Covid 19. Details of how to order can be found at the link below.
http://www.astrospace.co.uk/index.html
Simply click on the link, wait for the Night Scenes 2021 details and click on the text. This will take to the options page. You can pay via PayPal or via card etc, simply follow the instructions. The first installment is £4 and covers December 2020 and the first six months of 2021. There are over 50 pages laid out in a similar fashion to the printed version; ie plenty of charts, maps and images to compliment the text, all in colour as usual.
Night Scenes is an indispensable almanac packed full with information on events in the sky, together with tips on observing. If you want to know what's happening, it's the 'goto' source. The society normally orders a 'bulk buy' of Night Scenes, but obviously this year that will not be possible, so it will be up to the individual to purchase a copy. We would like to think members will continue to support this excellent almanac if possible, otherwise the 2022 booklet version may become another casualty of Covid.