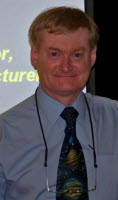 After a 3 year break, all being well Paul will return to Whitby on May 8th to give a presentation on the Voyager probes to coincide with their 41st launch anniversary.
Entitled "Triumphs of Voyager pt 1: Journey to Jupiter/Splendours of Saturn", it promises to be every bit as informative and entertaining as Paul's other talks.
The venue is the Main Hall at the Normanby campus of Whitby College (so that's the big hall at Whitby School!)  The venue offers ample parking, but is still within easy walking distance from the town.
We are planning on providing some kind of refreshments: sausage rolls, scones, tea and coffee etc.  Admission is £3 (to be agreed).  The doors will be open 19:00h for an intended 19:30h start.  We would like to see as many members – past and present as possible, plus anyone who you think may be up for an evening of Paul Money enlightenment.