On paper this article will be a great deal shorter than last year's, the weather over the Regatta weekend preventing any War and Peace length article.  So here is a précis of events.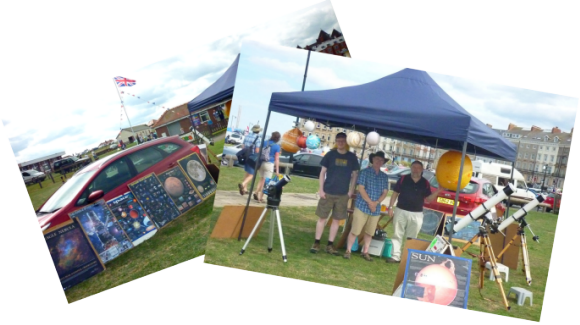 Saturday, probably the best day, did allow some observations of the sun at the solar party event.  As usual now our location was adjacent to trampoline/Go carts on the West Cliff and near to our friend Marcus at Grover Optics and the bird of prey display.  The new gazebo acquired last year went up like a dream and once all the poster boards, inflatable solar system and scopes were set out, our pitch looked half decent- bordering pretty good.
Andy L, Keith and Lee, all came along to help out, it was then a case of waiting for the sun to appear, which it duly did.  Déjà vu... again, just like at Park Fest the Sun was completely blemish free, indeed it may have been for well over a month.  Still, the afternoon wasn't wasted with quite a few members of the public coming across to have a look, ask questions or enquire about the planned star party events.  Well, the planned star party events were disappointing to say the least, heavy cloud cover and the threat of rain, prevented any observations.  On Saturday night, Keith, John L and Mark did turn up, looked up at the sky, chatted a short while to the very few, extremely optimistic members of the public who came along, and then departed.
The Sunday afternoon solar event went ahead, but with a reduced set up – based in and around Mark's car. Little of the sun was seen.  The evening event was a solo affair, just Mark, no one else, a threatening, cloudy sky and for just a few brief minutes, Jupiter- in a tiny clear slot. Mark unloaded the 6"dobby, carted it across the number 4 pitch hole, set it up, acquired Jupiter, then the clouds rolled across accompanied by a splashes of rain, so he carted it all back again, went home and sulked.  When you are looking for decent weather on a set date, a definite pattern is developing; can you see what it is?
Keith and Mark did venture up to assist Marcus on the Monday afternoon, trying out a little solar viewing with an 8" Celestron and solar filter Marcus had on the stand.  An otherwise great image was undermined by mist, which kept rolling in off the sea.  It was possible however to see that no sunspots were visible.  Here's hoping for a better 2019 Regatta.