Well, we tried our best, but it was pretty much in vain.  The weather was marginally better than forecast and many Regatta activities went ahead, just not most of ours.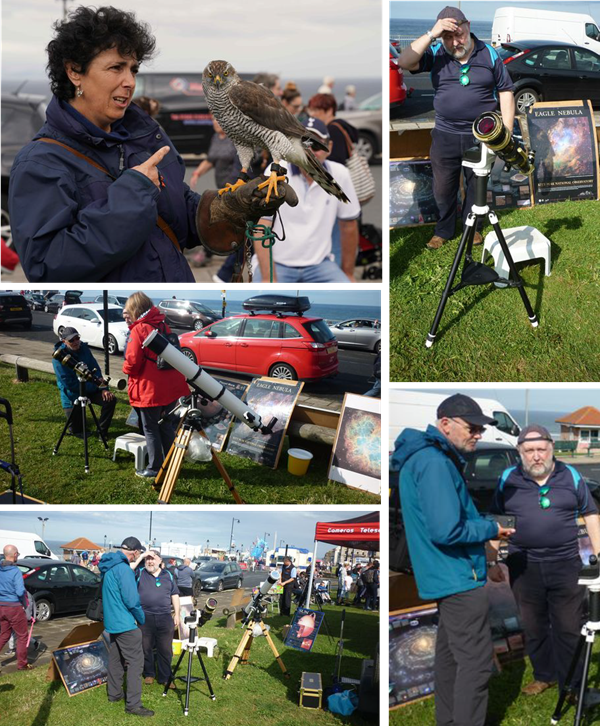 Saturday was rather windy throughout and although a few breaks in the cloud did allow for some brief solar observations in the afternoon, it was certainly not ideal.  Barbara and Mark made it along for a while, but we couldn't even show them any sunspots, completely bare again... the Sun that is.
Suffice to say the gazebo stayed in the car – as did most of the poster boards after a number had made a bid for freedom, and when the deluge arrived late afternoon, so did Keith and Mark, watching people run for cover - broken and twisted brollies in hand...  or just running after broken and twisted brollies.  You get the picture.
Saturday evening was almost a wash-out, Mark went up to take a rain check, which for a while had ceased allowing a brief glimpse of the moon and Jupiter.  No one else was there to marvel at this stroke of luck lasting all of 20 minutes!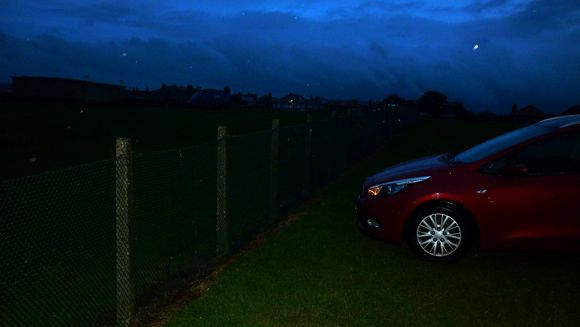 Sunday was slightly less windy and as a result more uniformly overcast.  Again, very little emerged from the car – a few poster boards, but it was all rather dreary.  Phil and Elaine came along to lend moral support and handle a few birds of prey.
At least the Typhoon fighter made the short journey from Lincolnshire putting on a fine and extremely noisy display, making up for the previous day when the sick note read – 'sorry Ty cannot fly today due to excessive wind'.  Sshh don't let on to the Russians!  The Wing walkers were also great to watch.
Conditions for the Sunday evening were forecast to be pretty dreadful, heavy rain and overcast skies.  That nights star party, although not officially cancelled was very unlikely to go ahead.  The heavy rain failed to materialise and the cloud mostly stayed just to the north of Whitby.  For what seemed like a very uncomfortable age the Moon, Jupiter and Saturn all showed their faces, fortunately (as we had just one scope in the car) no one else did!
With no customers Keith and Mark abandoned ship and went to watch the fair ride lorries negotiate their way around the bottom of Khyber Pass – always good for drama and 'will it or won't it' moments.  Disappointed nothing was demolished they made their way back to the car, the Moon, Jupiter and Saturn still embarrassingly on view, but no custom either.  Cloud did then finally roll up our decision the breeze intensified.
Monday was a tremendous improvement – with good spells of sunshine and little wind.  The downside being we don't normally host anything on the Monday!!  .....breathe and count to twenty.  But what the heck, we decided to go for it and at least try to salvage something from the weekend.  No Gazebo just poster boards and a couple of scopes... including Keith's Solar scope and 'cheap mount'... breathe and count to 30... which he'd popped home for during the only rain shower of the afternoon.  It was worth it as two solar flares were visible on the limb.  Hallelujah, the best observing of the weekend.
Marcus at Grovers Optics – who had endured the whole weekend (but had done some decent trade) was also impressed, celebrating by sticking a golden eagle on his arm!
It had been a funny old Regatta, hopefully we'll have better fortune next year.  That, and some sunspots.