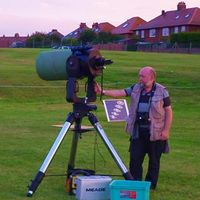 This year's Regatta events will be similar in setup to previous ones with afternoon solar viewing, on Saturday (10th) and Sunday (11th), followed by evening star parties on both dates.
The location of the solar viewing event will be the grassy area adjacent to the small Go-carts track on the West Cliff and in proximity to the Grovers Optics stand.  We shall be setting up from 13:00h for a 13:30h start, finishing around 16:15h.
The evening star parties will be held on the pitch and put area, above the archery green, as per last year.  Parking is adjacent to this area - down the side of pitch and put, accessed over the parking area behind the bowling green.  It is actually quite convenient.  We shall be setting up from 20:30h.  If conditions are fine and you can make it along, assistance would be most welcome.
As for the rest of August – we have Folk week and the bank holiday events to look forward to.  August dates seem to be very susceptible to the weather, so I have put quite a few dates down.  Expect half to be called off.  Again if it is a fine night on a scheduled date and you can make it please do come along.