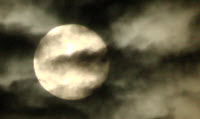 After August's full moon wash out, would September's fare any better?
Initially things looked promising and we would get to view thmoon rising over the east horizon. However it became evident that by the time of moonrise, cloud in the wrong place was going to spoil the party.
Society and members of the public alike gathered around Cpt Cooks statue passing the time by trying to estimate/gauge just where the moon might appear. And then ... ta da, the moon appeared in a clear slot several degrees further out to sea from where estimated. Cue a frenzy of scope and camera activity, five minutes later it was gone again, just as Mark had a scope aligned.
Defeated again - well not quite because clouds did finally clear out of the way later on, allowing plenty of time to take some shots, Unfortunately by then any dramatic impact had been somewhat diluted with the moon higher in the sky.
The following night mark and several other members did independently take some images of the moon rising. Verdict:
Astronomers 1 - Grumpy Mother Nature 1.
Mega-moon before clouds obscured the view. (Photo by John Lamb)

Click thumbnail for full-size image.

Whitby Abbey, mega-moon through the clouds. (Photo by John Lamb)

Click thumbnail for full-size image.