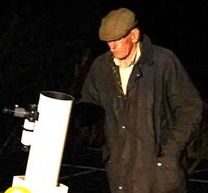 The event in Westerdale village was held a little later this year, allowing greater prior publicity. The weather had been very mixed leading up to the Friday, so it came as some relief that skies were forecast to clear for that evening, duly obliging.
Mark, Keith, Barbara and Mark, travelled over to the village hall, arriving in good time to meet up with society member (and village elder) John Randles and family, as well as scout for the optimum viewing positions to site the scopes. It was also nice to meet up again with Debbie Swales, who had organised matters at that end.   
Although not dark, Jupiter emerged in the twilight and straight away it became apparent that observations of Jupiter and Saturn would be problematical, both obscured by treetops, at least for the start of the event. To kill some time, Mark D gave a short (for him) presentation in the hall, where by now a very healthy audience (30+) were arranged. The scale Earth /Moon demo allowed for some participation and much interest was shown in the collection of meteorites passed around. It was then time to venture outdoors as skies were almost fully dark. 
It still proved impossible to obtain views of Jupiter and Saturn with the scopes on the ground, so, after some lateral thinking we placed the dobsonian's on one of the seating benches gaining that little bit of height required to allow viewing of Jupiter. Saturn was a harder nut to crack, but was eventaully done so. Skies may have been clear, but a chill breeze kept nagging away and the cups of hot beverages made in the hall were most welcome, although Mark never did manage one. Views of Jupiter, and eventually Saturn, were very pleasing and certainly grabbed people's attention. Mark gave a laser pointer tour of the constellations visible, while Keith tried to capture some images on the eVscope, the breeze unfortunately hampering efforts to do this. 
By 21:00hrs people began to depart, and after some final and it has to be said, glorious views of Saturn we packed up. It had been a thoroughly enjoyable evening, appreciated by all, and with that in mind plans are already afoot to host an event in the early spring of 2022. 
Many thanks to Debbie, John and all those who attended, as well as Keith, Barbara and Mark.