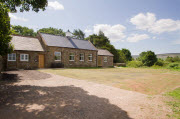 We shall once again be travelling over to Westerdale to host a star party on Saturday Sept 19th.
The venue will be the village hall / car park area within the village. Start time is 20:00h for the public, but will members wishing to attend (contact Mark) be there for 19:30-19:45h to allow time for equipment to be set up.
Anyone who has been before will know the site is reasonably dark and the natives are always friendly, and it will be nice to see our friend John. Hopefully the sky will be clear, but if not plan B will be initiated.