This event was requested over a year ago by the Women's Institute, but the actual composition and likely format it would follow only emerged on the day itself.  In other words the weather decided what was possible on the evening, and although the heavy rain which fell for much of the afternoon had ceased, it was still cloudy!
Plan B was therefore an indoor presentation at their meeting venue, but as this was the main hall of the Whitby Pavilion, it did add another dimension to what was possible.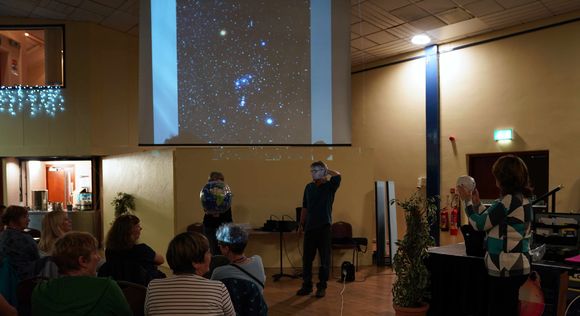 On arrival Mark and Keith were given a warm welcome by Heather and Mandy in the hall and given time to 'set up' the equipment and demonstration aids whilst the ladies saw to WI business for the evening.
Utilising the size of the hall, and with aid from WI members, various scale demonstrations of planetary solar system and stellar distances were performed with much encouragement from the side lines

Following a tea break, in which several rather delicious slices of home baked cake were consumed, our various examples of meteorite and tektites were passed around before Mark a gave a short (for him) power point presentation on the various types of wondrous objects astronomers observe. 
We only overran for 5 minutes.  It was an enjoyable evening and from later feedback, much appreciated by the WI members, with a few expressing an interest in perhaps joining the WDAS.